About This Site
A brief description about me.
This site is predominantly a music site combined with a few photos of bands and people who were around at the time the bands were regularly playing gigs.
The music on this site consists of demo and live recordings of bands that I went to see live in and around London. There are no commercial recordings on this site and all recordings have had permission by at least one member of the bands concerned. All mp3s are free to download and I make no money at all in running this website. Also there are mp3s of recordings I made while working as a sound engineer / producer between 1994 and 1995 when I can get permission from the artists involved. There are also be some of my own compositions too, but not many you will be relieved to hear.
Below is a photo of one of the bands I used to play guitar in. We were called The Worms and we would play regularly with a punk band called Chaos who were friends of ours. Sadly The Worms broke up in 1986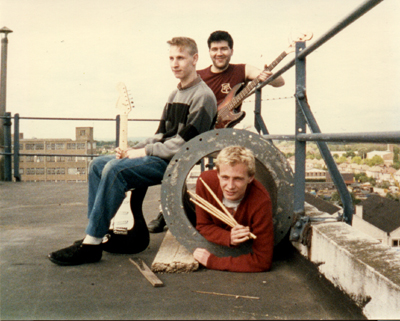 born in 1963, school until early 1980. My earliest musical loves were rockabilly and some rock n roll. In the late seventies the punk explosion occured. These became exciting times for me as a young rebellious teenager. Going to see bands like The Ruts and Adam and the Antz whilst still at school, opened my eyes to a whole new world of music, but not discarding my love of rockabilly I continued to go to clubs and gigs of both types.
In the early Eighties the two musical styles created a mutant offspring and psychobilly was born. Bands like the Meteors and king kurt were playing in London almost every weekend. These gigs were often very violent but such great fun, provided you didn't end up in hospital.
Punk night at the Lyceum used to merge many upcoming bands with current punk faves. Bands like Alien Sex Fiend, Flesh For Lulu and Specimen would play on the same bill as The Meteors or The Vibrators and UK Subs. Siouxsie and the Banshees and Sex Gang Children were playing a new style of punk which later became goth. Other Punk labelled bands were playing a more electro style punk using keyboards and synthesizers such as Tubeway army who were one of the pioneers and influences of todays industrial bands.
Today I am still enjoying a variety of styles of music both on the live circuit and in the clubs. Having played in a few punk bands of my own and played support to many punk, Rockabilly and Psychobilly bands I have now given up making music but still try to be involved in music in some creative form. I even studied to be a sound engineer in the mid nineties and engineered and produced some bands that I knew. Some of these sessions you can hear on my audio pages. Now I'm getting older and beginning to slow down in my musical activities, but I will always be passionate about the music I love.
In February this year (2008) after many years saving up to buy recording equipment I finally got round to make proper recordings of Original Sin songs that I wrote back around 1981. It took 6 months to complete and are available here to download. Future plans are to record songs from The Worms and more songs from Original Sin and Circle Of Sin, the bands I played in throughout the early to mid 80s. So keep checking this site!
Martin F.
If You are interested here is a Band History written by Tom Halpin formerly of Original Sin and 16 Guns.
Or maybe you would like to see some Original Sin / Circle Of Sin gig flyers or some Setlists and Adverts or even some Original Sin Or Circle Of Sin Lyric Sheets