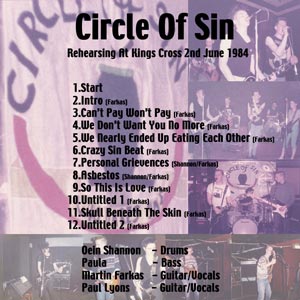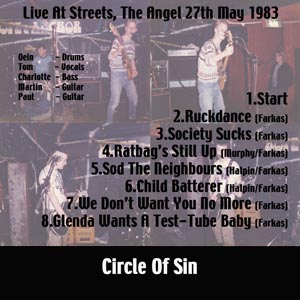 Circle Of Sin recorded live at Streets, The Angel 27th May 1983.
Download MP3 Here.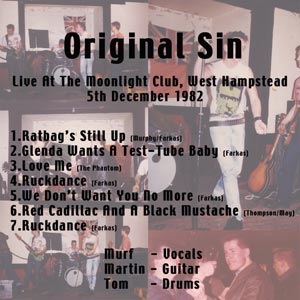 Original Sin & Circle Of Sin Recordings
We played this gig borrowing Chaos' Guitar Amps and Drum Kit, as we didn't have our own gear. We had recently added a second guitarist to our line-up, and as there was only one Guitar Amp, we played the gig with Paul playing half the set and me playing the other half.
Martin.
This is the earliest recording of Original Sin I have heard and we were still quite raw at this stage. We played this gig without any notice as one of the bands "Brutal Attack" didn't turn up, so as we were in the audience, Chaos asked us if we would open for them. We had to use all Chaos' instruments, amps & drums. Unfortunately I am a left handed guitarist and had to play a right handed guitar upside- down. This didn't help to make us sound any better, we did sound crap that night, but we were well known by the Chaos crowd, and they still all enjoyed themselves.
Martin.